Providing solutions for Rural Africa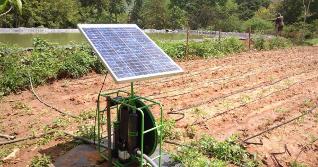 FUTUREPUMP
The SF1 Future pump is an innovative solar powered pump specifically designed for small scale agricultural irrigation applications using low pressure sprays and drip. It is of positive displacement reciprocating piston type with the capability to lift water up to 6m from shallow wells, rivers and dams and at low and can provide enough water to irrigate one acre. Pump construction is durable cast iron and it is mounted in a sturdy frame for easy handling.
The pump includes two components, a solar panel that is separately mounted for security and optimal sunlight and the pump unit is supplied complete with 6m suction hose and a spares kit.
The Future pump is of exceptionally robust design for long life and is the most efficient and cost efficient solution to small scale farm irrigation requirements.
FLEXIPUMP
The flexipump helps farmers become financially independent through increased crop yields. Sufficient irrigation is the easiest way for subsistence farmers to increase their crop yields. However, irrigating by bucket takes too long. With a flexipump, a farmer can easily reduce the time taken to irrigate by 80%! This means they can grow more food, on a larger area, both to eat and to sell.
At only 2.5Kg's it is very easy for both men and women to use. No tools are required for maintenance, farmers can even make their own spare parts.
WELLO WATER WHEEL
The WaterWheel is beneficial on so many levels; reducing the drudgery of water collection for women, providing irrigation for household vegetable gardens, and enabling people to use their time more productively.